The Next Big Thing : 5 Things To Know About Actress
Julie Gerstein
Have you heard of Dreama Walker? If you haven't you will soon. That's because Dreama is the star of the new indie flick "Compliance," where she stars as Becky, a fast food employee who unwittingly gets caught up in a prank call scam. Her performance is delicate, naturalistic and very, very good.
If you miss her in "Compliance" (which don't — it's definitely worth seeing), you can also catch her in the ABC sitcom "Don't Trust The B— In Apartment 23," and in the upcoming movies "The Kitchen" and "Chlorine."
So what should you know about Dreama?
1. One of her first roles was playing Clint Eastwood's granddaughter in "Gran Torino."
She said of the
experience
:
"I thought it was a glitch and some sort of mistake and I didn't know how I got that part and I didn't know why or how he wouldn't have cast somebody that was more well known. But it was an extremely cool experience. He is just so easy and so wonderful to work with and for. His team, he uses the same crew essentially he has for the last 20 years and they're just a machine, an amazing machine and it's like 9 to 5 days. Everyone couldn't be nicer and is just so efficient and good at their job. So it was a fantastic experience and of course he's just a super cool dude. So that was awesome and I remember being like, 'Well, this is it. This is over.' My dad still is like, 'Well, what's going on now, Dreama? You should call up Clint and see if he's got anything else.' I'm like, 'It doesn't work like that, daddy. That's not how it happens.'"
2. She's now on "Don't Trust the B—- in Apt. 23," but you better never call her a bitch.
"As a woman, it's certainly not my favorite word, but in this sense, (Chloe) is an assertive, super-get-ahead, take-charge woman," Walker
said of the show
. "When women take on the role of a man, sometimes they'll get called that word. Chloe puts herself first and she's selfish, but it's not meant to be bad at all."
3. She spent a few seasons as a member of Blair Waldorf's posse on "Gossip Girl."
From 2008-2009, Dreama played Hazel on the hit CW show, bouncing back and forth between being loyal to Blair and poor teen fashion designer Jenny Humphrey.
4. She was nominated for a Teen Choice Award for "Female Breakout Star."
For her role on "Don't Trust The B—- in Apt. 23."
5. She supports marriage equality.
She was in a promotional video for the Human Rights Campaign's Americans
For Marriage Equality campaign.
___________________________________________________
"Hunted" Episode 1 Preview
Written by Connor Beaton
Hunted presents all the elements of an action-packed television thriller in its first half hour, then ends in a way that suggests something with more substance could soon emerge. Main character Samantha Hunter (Melissa George) is a ruthless agent working at the sort of intelligence firm whose existence would be a conspiracy theorist's wet dream; her first job shows her undercover as an organised criminal's girlfriend and being "assassinated" in front of him, giving her the opportunity to rescue a doctor he's detained for torture. The procedure's pulled off with as much finesse as in any big-budget blockbuster, but understandably these scenes aren't the bulk of the first episode's action.
Instead, we struggle with convoluted character dynamics; she's assaulted by hired goons and suspects Aidan (Adam Rayner), her boyfriend and colleague, of selling her out. She then spends a year in isolation before returning for another undercover role, this time as an American school-teacher. She impresses an industrial mogul during a staged rescue scene to the extent that he hires her as his son's live-in tutor, giving her many opportunities to spy on his movements. The first season of the programme will probably follow her in this role: there's so much focus on character development in the latter half of the pilot that it wouldn't surprise me to see the flashy moments abdicate and for dialogue-driven drama to take the lime-light.
While there's a reasonable distribution of clichés in this pilot, unanswered questions from Sam's childhood flashbacks and the challenging themes on which we briefly touch might make for more mature subject matter than one might expect from The X-Files' former head writer, Frank Spotnitz. Even as part of her disguise, her protectiveness of her new ward demonstrates her pain from having lost a child. The pilot obviously doesn't give too much away, but there's a wide range of possibilities that can be explored here, and the "next time…" montage instilled a reasonable degree of confidence. The cast is talented and the premise is sound enough, but Hunted could really go either way from here. I'd keep an eye on it.
___________________________________________________
Kate Upton

: photoshoot for Skullcandy headphones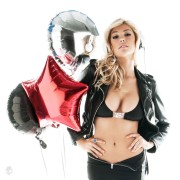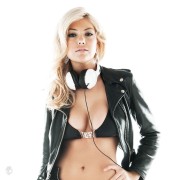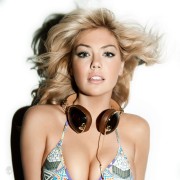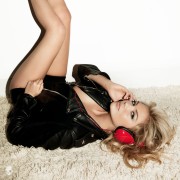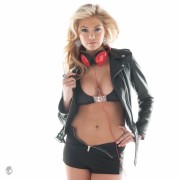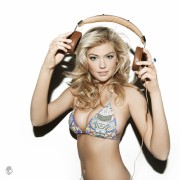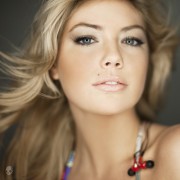 ___________________________________________________
Ashley Benson's Pretty Little Interview
The 22-year-old starlet may be known for playing one of the prettiest liars on TV, but there's much more to her than meets the eye.
Find out what Ash told us about her edgy new role in Spring Breakers
JJJ: Earlier this year you wrapped up your upcoming movie, Spring Breakers, was it fun to branch out from your PLL character?
AB:
Yeah, it was. It was such an awesome experience. It was very different from anything I've done, obviously. It's more edgy and it's a little bit darker and I just play an insane character, but it was fun because I always play the same characters throughout my career and this is one that I really invested time in. It was just a good script and to work with
Harmony
was awesome and the cast was amazing! It was really fun!
JJJ: Did you have a favorite scene to shoot?
AB:
I think all the scenes were pretty fun. I got to carry a gun a lot, so doing a lot of the robbing scenes was probably the most fun.
JJJ: Are you more excited or nervous for people to see it?
AB:
I'm really excited for people to see it. I think it's going to shock a lot of people. My fans are generally teenagers or younger, so obviously a lot of them can't see it, but the ones who do see it I think they're going to really like it. It's definitely a shocking movie, but it's done in a really great way.
JJJ: Will you and the cast be going to the Venice Film Festival?
AB:
Yeah, we'll go to Venice at the end of this month for the film festival, then we go to the Toronto film festival, so we're premiering it very soon. I can't wait!
JJJ: Have you seen the film yet?
AB:
I mean I've seen the movie and it's absolutely amazing, but I can't wait to see it with people around so I can see their reactions so I'm very excited!
JJJ: What did you, Selena Gomez, and Vanessa Hudgens do for fun when you weren't working on SB?
AB:
We were shooting in Florida and it was super boring. We were filming in a town that had a few places to go, but they were more for older people (
laughs
) so we would go to dinner and hang out in our hotel rooms and stuff. We didn't really do much. We were working on weekends, so we didn't get a lot of time off, we found this really cool vintage store that me and
Vanessa
went to a lot.
JJJ: Were you ever uncomfortable being a bathing suit so much for the flick?
AB:
Yeah, I was super nervous before I got the movie I was worried about it. I talked to
Harmony
about it and he was like, "There's no need to stress out. You guys are college students in the film and nobody has the perfect body!"
Harmony
really wanted us to look like we drank all the time and we partied, cuz that's what they did, and he didn't want us to have perfect bodies.
JJJ: It sounds like that took off a lot of the pressure.
AB:
Yeah, so when I got to set I was a lot more comfortable. I mean any time you're in a bathing suit you're always self-conscious, because people comment and you know, but
Harmony
made us all feel really comfortable. What was also great was that me,
Vanessa
,
Selena
, and
Rachel
were all really comfortable with each other and nobody was commenting or trying to get super skinny. It was just a good group of girls to be around. We were all like, "We don't care if we're not perfect, and we're not perfect." It was nice.
JJJ: Were you friends with any of the girls before you started filming?
AB:
Me and
Selena
were friends and I've known
Vanessa
for a really long time, but we never hung out much and then I met Rachel on set. In the movie it seems like we've known each other for years and we all got a long so well and it was like the funniest thing I've ever filmed. I mean, how close we got, it was so cool.
JJJ: We heard some rumors that you're interested in playing Anastasia in the movie version of Fifty Shades of Grey! Is that true?
AB
: Yeah, you know I've read all the books and I think it's amazing series. It would be very difficult to play that role (
laughs
). I'd have to read the script and see how it is, but it's going to be an awesome movie. It might be a little too much, but I'd just have to see how the script was.
Read more
here
NC-17 films:

Why they got the rating
by Noelene Clark and Nardine Saad
'Midnight Cowboy' | 1969 | X
(

United Artists

)
Box office:
$44,785,053
The only X-rated film to win an Academy Award for best picture, John Schlesinger's "Midnight Cowboy" (based on James Leo Herlihy's novel) starred then-newcomer Jon Voight, left, as a prostitute in New York City and Dustin Hoffman as his friend, an ailing thief.
"We felt the X rating was the correct rating for it," the film's producer Jerome Hellman
told the L.A. Times
in 1992. "X in those days did not mean pornography." After "Midnight Cowboy" won three Oscars (and was nominated for four more), it was re-rated R.
"The great thing about 'Midnight Cowboy' is that we didn't question what we were doing," Schlesinger
told the Philadelphia Inquirer
when the film was re-released in 1994. "We just did it with a total feeling of confidence and freedom. We didn't think, 'Oh, we're being very groundbreaking on this.' I just made the film the way I wanted to."
'Last Tango in Paris' | 1973 | X
(

United Artists / Associated Press

)
Box office:
$36 million, or $225 million today
Marlon Brando was nominated for an Oscar for his role as an American widower whose wife had committed suicide. Maria Schneider, a 1970s sexual icon, played a carefree Parisian engaged to marry a pompous young filmmaker. Brando's Paul and Schneider's Jeanne meet at an apartment for rent, have a quick sexual encounter and decide to meet there again for anonymous encounters -- they know nothing about each other, including each other's name. An explicit sex scene involving butter earned the film the X rating and was not part of the original script.
Critic Pauline Kael called it "a landmark in movie history"
and critic Roger Ebert said it was "one of the great emotional experiences of our time," but the film was banned in a number of countries for its sexuality and nudity.
In her later years, Schneider expressed regret about appearing in the film, saying "I felt a little raped" by Marlon Brando and director Bernardo Bertolucci.
'Showgirls' | 1995 | NC-17
(

Murray Close / United Artists

)
Box office:
$20,350,754
Controversy surrounded the opening of Paul Verhoeven's 1995 "Showgirls," the first NC-17 movie to be given wide release in mainstream theaters. The film, which was widely panned but has since become a cult favorite, starred Gina Gershon as Cristal, the star of a Las Vegas casino's topless show, and Elizabeth Berkley as Nomi (above), a new-in-town stripper who uses any means necessary to become a star showgirl.
"Showgirls" earned its MPAA rating for "nudity and erotic sexuality throughout, and for some graphic language and sexual violence," but Los Angeles Times critic Kenneth Turan
wrote in his review
that all the hubbub was for naught: "First off, this nominally risque story ... has somehow managed to make extensive nudity exquisitely boring. Then it has bested some stiff competition to set new low standards for demeaning treatment of women on film. ... Of all the opportunities 'Showgirls' missed, the saddest one is the inability to make good use of its NC-17 rating by turning out a genuine piece of erotica or even good hearty trash."
'Storytelling' | 2002 | R
(

John Clifford / Fine Line Features

)
Box office: $921,445
The Todd Solondz film starring Selma Blair, John Goodman and Paul Giamatti is in two parts, one titled "Fiction" and the other "Non-Fiction." The former features Blair and centers on a college creative writing teacher who has affairs with his students. The latter deals with a high school student and his family as he applies for college. A scene involving Blair, above, and actor Robert Wisdom was initially considered too violent. Defenders of the MPAA noted that the number of thrusts was the decisive factor; critics asserted that the raters may have influenced by the fact that the sex was taking place between an older black man and a young white woman.
As it turned out, Solondz had a clause in his contract that allowed him to release the movie with the scene intact, providing enough black bars were placed over the anatomy to allow the revised film to receive an R.
'The Dreamers' | 2003 | NC-17
(

Severine Brigeot / Fox Searchlight

)
Box office: $2,532,228
Bernardo Bertolucci -- the Italian director of the 1973 X-rated box office hit "Last Tango in Paris" -- enjoyed another success with 2003's arthouse drama "The Dreamers," which was rated NC-17 "for nudity and explicit sexuality." The film, based on Gilbert Adair's novel "The Holy Innocents," follows an American student (Michael Pitt, left) in Paris during the 1968 student riots. He falls in love and becomes sexually involved with a sister (Eva Green, right) and brother (Louis Garrel) who share an intimate, incestuous relationship.
'Young Adam' | 2004
(

Neil Davidson / Sony Pictures Classics

)
Box office: $767,373
David Mackenzie's bleak drama set in Scotland in the 1950s received an NC-17 rating for sexuality, nudity and language. Ewan McGregor (pictured, with Tilda Swinton) played Joe, an amoral drifter working on a canal barge owned by a married couple, Les and Ella (Peter Mullan and Swinton). After Joe and Les find the half-naked body of a young woman floating in the canal, Joe seduces Ella, and it becomes clear he may be involved in the woman's death.
The scene in which Swinton and McGregor's characters make love for the first time on a riverbank earned it the NC-17 rating. However, the actors were fully clothed, unlike other sex scenes that played out in the film. The point of contention was the duration of that scene, which includes McGregor's character engaging in oral sex with Swinton's character. The film has other sexually explicit scenes, including a sensual food fight between McGregor and costar Emily Mortimer, but the amount of time the oral sex scene lasted is what sent ratings board members over the edge.
'Bad Education' | 2004 | NC-17
(

Diego Lopez Calvin / Sony Pictures Classic

)
Box office: $5,211,842
Despite the fact that this Sony Pictures Classics film came from international auteur Pedro Almodovar, theater owners and media outlets still opposed its release after its NC-17 rating for a scene of explicit sexual content. The Spanish film with English subtitles spanned multiple years and centered on a predatory transsexual named Ignacio who had been abused by a priest in school. The film tackles abuse and misconduct in the Catholic church and is laden with multiple sex scenes of implied pedophilia.
Times film reviewer Carina Chocano wrote: "'Bad Education' doesn't let anyone off the hook -- not the church, not the spiritually bereft cults of materialism and celebrity, not actors (they're liars), not directors (propagandists), not even his old friends, the scrappy outcasts. Maybe, by excluding them, Almodovar spares the women he's so often cast as heroes. Then again, he could be suggesting there's just no such thing anymore."
'High Tension' | 2005 | NC-17
(

Toni Salabasev / Lionsgate Films

)
Box office: $3,681,066
Lionsgate chose to release Alexandre Aja's French horror film called "High Tension" as NC-17 instead of unrated during a brief 2004 renaissance of the rating. The story of two friends fighting off a killer (Philippe Nahon) in the French countryside has minimal dialogue after the opening segment -- perhaps only 10 minutes in all. The action is told from the vantage point of Marie (Cecile De France), who, having escaped from the man's clutches, is trying to save Alex (Maiwenn), whom the killer has kidnapped. Some of the more violent scenes were trimmed -- though not removed.
"We feel it's important to establish a legitimate adult rating," said Tom Ortenberg, president of Lions Gate Releasing. "If the MPAA won't do it, we'll do it for them. By refusing to use its tremendous lobbying power to lean on newspapers and theaters [resistant to showing or promoting NC-17 material], the organization has marginalized the designation."
The film was originally rated NC-17 in the U.S. for strong graphic violence. But a few graphic shots were cut from the final version and it was later given an R rating, but the NC-17 version was still shown in some theaters.
'Blue Valentine' | 2010 | R
(

The Weinstein Company

)
Box office: $9,706,328
When the MPAA handed Derek Cianfrance's romantic drama "Blue Valentine" an NC-17 rating for an oral sex scene containing no nudity, the director immediately pointed out a double standard; earlier that year, "Black Swan," which contained an oral sex scene of equal duration, received an R rating.
"I don't have an answer for why that movie ["Black Swan"] would be OK and ours wouldn't," Cianfrance said at the time, calling the NC-17 rating "a form of censorship." "There's not an ounce of skin, and it's not gratuitous in any way. I'm confused and baffled."
Eventually, an MPAA appeals board overturned the rating, downgrading it to an R, and the film earned Michelle Williams, left, an Oscar nod.
'Shame' | 2011 | NC-17
(

Fox Searchlight

)
Box office: $3,909,002
Steve McQueen's Golden Globe-nominated film follows a sex addict (played by Michael Fassbender, right) struggling to find emotional connection. The MPAA gave "Shame" the NC-17 marker for "some explicit sexual content," but some critics speculated that the film's exploration of the dark nature of addiction also factored heavily into the rating.
"Recorded in explicit but never pornographic detail, this is some of the most joyless sex ever put on screen, a compulsion to climax in which emotional connection plays no part," Los Angeles Times critic Kenneth Turan wrote in his review. "It's the fixation of a tortured individual aghast at the self-destructiveness of his addiction but unable to change his actions or escape the shame they cause."
'Killer Joe' | 2012 | NC-17
(

LD Entertainment

)
Box office:
$431,200
William Friedkin, best known for directing "The French Connection" and "The Exorcist," attempted a comeback with "Killer Joe," an ultra-violent film starring Matthew McConaughey, above, as a hit man hired by a man (Emile Hirsch) to kill his mother for the insurance money. The movie earned its MPAA NC-17 rating for "graphic, disturbing content involving violence and sexuality and a scene of brutality."
In the film's opening scene, Gina Gershon's character opens the door wearing only "a shirt and a snarl," writes Los Angeles Times critic Betsy Sharkey in
her review of the film
. "That sets the tone of all that follows. It is also one of the full-frontal shots that helped earn 'Killer Joe' its NC-17 rating, along with a good deal of extreme violence, though I'd bet the sexually twisted subtext is what sealed the NC deal."
___________________________________________________
American Mary's Katharine Isabelle and John Emmet Tracy : Interview FrightFest 2012
* all slim down and looking mighty attractive. Dare I say Kathy never looked more beautiful than she does now. She is one of the few ladies capable of ageing gracefully.
American Mary Directors Jen Soska and Sylvia Soska speak at FrightFest 2012
Katharine Isabelle (Ginger Snaps) and John Emmet Tracy Interview on American Mary
* scary eyes on Katharine by co-star John...I probably be charged with newly implemented 'visual sexual-assault' if I stare that way at a woman.
___________________________________________________
Doubting the woman

:

Paoli Dam in Chatrak
Wrapping Up with Nude Photography
Self taught German photographer Klaus Kampert is no stranger to the female form as his work boast amazingly beautiful and tasteful female nudes. His main interest is people-photography, focussing on beauty, portrait, nudes and dance. Although his site is filled with great work, I pulled these shots from his "Wrapped" series because of it's use of a simple length of fabric to create unique poses.
Photographer :
Klaus Kampert
Model :
Keira Grant
"My work is mainly concerned with the human body. Still, I do not consider my images to be classic nudes or erotic photography, although these genres may have an impact on my work."
"I am not interested in showing beauty as an outward phenomenon.Rather I would like to present the human being as a whole:
Body and mind united."
"By picturing nakedness in an image, it is to reveal mind and emotion, not only showing the body as such."
"Among my models especially the ballet dancers are those who succeed in expressing this wholeness in a particular manner. Their bodies bespeak the constant pursuit of beauty, grace, achievement and perfection."
"It is my intention and my passion to display this to the viewer."
___________________________________________________